Roaming Hut
You never know who you could be sharing a backcountry hut with. Crafted from salvaged caravan parts, reclaimed heart rimu and an old Scout tent, Roaming Hut brings you such encounters within an urban shelter like no other. Who will you meet there?
Find Roaming Hut
True to its name this Urban Hut roams to different locations during the New Zealand Festival of the Arts (21 Feb – 15 March). See scheduled dates and locations below to plan ahead for when you want to catch it.
Follow the Roaming Hut pin on the map to find the hut in session. It will move each day of the schedule. If you see it on the map, Roaming Hut is there right now! Catch it if you can!
If you don't see the pin on the map, refer to the schedule and look again during one of those session times. Actual session times may differ from scheduled times. Keep updated by following the hut on the socials:
Live updates
Visit @UrbanHutClub on Instagram
Follow @Kemi_Niko on Twitter
Thursday 20 Feb
Mt. Vic.
5.30pm - 7.30pm
Friday 21 Feb
Odlins plaza, Waterfront
8.30am - 10.30am
Saturday 22 Feb
Te Rauparaha Arena, Porirua
10.30am - 12.30
Sunday 23 Feb
Te Rauparaha Arena, Porirua
1pm – 4pm
Monday 24 Feb
RNZB lawn, Michael Fowler Centre
7.30am - 9.30am
Thursday 27 Feb
Secret Location
4.30pm – 6.30pm
Saturday 29 Feb
Performance Arcade, Waterfront
10am – 12noon
Sunday 1 March
Secret Location
12- 2pm
Monday 2 March
Waihinahina Park, Newlands
10.45am - 12.45
Tuesday 3 March
Seaweek, Secret Location
11.30am – 1.30pm
Wednesday 4 March
Lower Hutt Events Centre
6pm – 9pm
Thursday 5 March
Dowse Museum, Lower Hutt
2pm – 4pm
Saturday 7 March
Odlins plaza, Waterfront
12 – 2pm
Sunday 8 March
Newtown Festival, Carrara Park
5pm - 8pm
Monday 9 March
Papawai Reserve, Mount Cook
5pm – 7pm
Tuesday 10 March
Under the sails, TSB Arena
5.30pm – 7.30pm
Wednesday 11 March
Under the sails, TSB Arena
5.30pm – 7.30pm
Thursday 12 March
RNZB lawn, Michael Fowler Centre
9.30am – 11.30am
Saturday 14 March
National Library, Thorndon
12 – 3.30pm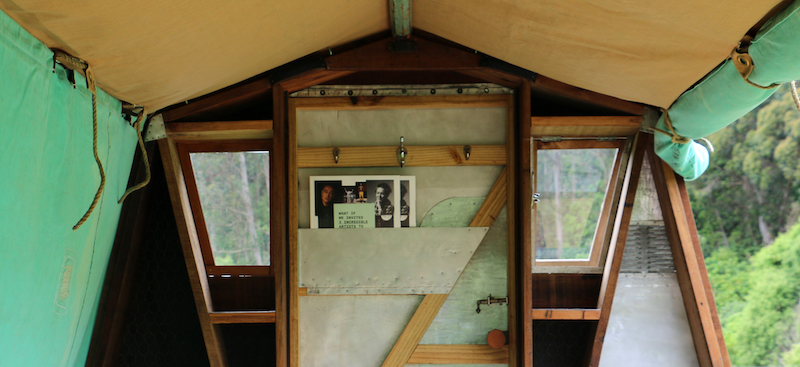 Follow the Journey
Watch moments from the build (open in web browser)
See images of others who have visited
Share your hut selfies with us by using these tags:
INSTAGRAM: @UrbanHutClub
FACEBOOK: @keminiko
ANYWHERE: #UrbanHutClub
Hut credits
Designed by
Kemi Niko & Co.
Commissioned by
New Zealand Festival of the Arts
Partnered by
Springload
Ngā mihi
Kāpiti Coast District Council
Creative New Zealand
New Zealand Community Trust
Built by
Kemi Niko & Co.
Weka Stitch
October 2019
With Support From
Fox River Community
Mandy and Robin Reid
Kirk Neilson and Nicky Searle
Carolyn Smith
Hannah Bridger
Lily Carter
Materials Donated by
Andzrej Suchanski
Kirk Neilson
Carolyn Smith
Mandy and Robin Reid